AUCKLAND: Practical Strategies: Diversity & Inclusion; Equity & Belonging
Date:
Starts:
Ends:
Duration:

1 hour 30 minutes

Category:

Regional events

Region: Auckland
Please join Kavita Khanna, Gerry Lynch and Callum McKirdy for an interactive session providing topical discussion involving practical strategies around diversity and inclusion, equity and belonging.
With their vast amount of experience combined, this event will undoubtedly offer several takeaways to further enrich current practices.
You and your organisation may well be playing an amazing role in paving the way forward ensuring rich diversity of culture, inclusion and thought leadership. Listening to our insightful speakers offering a fresh perspective on what diversity and inclusion is, where your journey might begin and how best to design a strategy; where to focus and what problems you might need to solve.
Gain a deeper understanding, share thoughts and experience to ultimately obtain new ideas of ensuring a richness of diversity and inclusion within your workplace. Come join us!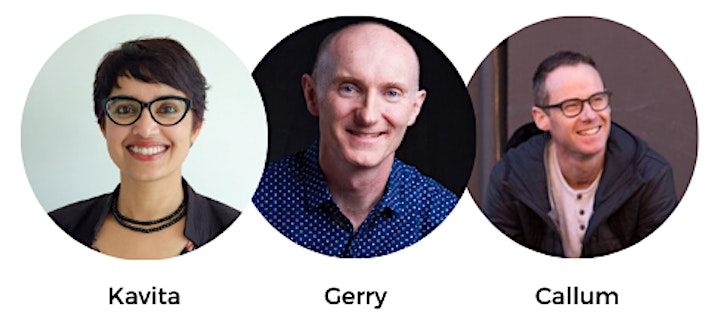 Our Presenters
Kavita Khanna
Kavita Khanna is Executive Leader for People + Workplace for Tonkin & Taylor group. She is on the Board of HRNZ and brings a wealth of leadership experience in HR and expertise covering governance, leadership, strategic planning, managing a business. Kavita has worked across a range of industry sectors in high growth environments and within rapidly evolving business landscapes.
She has led change delivery of organisation transformation projects in complex environments. She is also a key proponent of human centric workplace culture that is enables people to bring their best. Kavita works to the principle that finding the right individuals, while providing good systems and practices – such as helping and coaching managers and team leaders to better lead and develop their people. "It pays to pay attention to what, as an organisation, you do with your people and culture. People and culture are the most touted but least leveraged competitive differentiator. For me, key to unlocking this is understanding business imperatives and not being precious about your role/style/skills and then approaching each problem as an exciting opportunity to make a real difference."
She is fascinated by all things people and people in organisations. Her approach is understated but values-led. "I specialise in complex, culture led change that engages the immovable to undertake a journey to the impossible. My approach is client-centric. I like to immerse in the business to get a deep understanding of business challenges beyond people issues and work with leaders and stakeholders every step of the way in order to find solutions."
Her client-focussed approach, together with an intimate knowledge of T+T's core business, results in "win-win" outcomes for T+T, its people and its clients.
She is also passionate about the growth of HR profession. She was on the Auckland subcommittee, led the Mentoring portfolio for the branch and has continued to be an active contributor to the HR Auckland community. She was part of the working group that developed the Chartering pathway and process for HRNZ. She featured her thoughts on empowerment in HR Chats with Te Radar and has been a judge on HR Awards since 2016
Gerry Lynch – Managing Director – The Real Leadership Company
Gerry Lynch set up The Real Leadership Company in 2020 to help companies build stronger cultures and businesses. He focuses on leadership coaching for the CEO or business lead and helping them with their strategies, capabilities and culture to enable the strategy.
Prior to this Gerry was the CEO at Delmaine Fine Foods ltd for 2 years and General Manager of Mars New Zealand for 8 years.
Just over a decade ago, Mars New Zealand had a forty per cent staff turnover and did not even make it into the top 100 Best Workplaces in New Zealand. By 2016 however, Mars NZ was a finalist in the IBM/Kenexa Best Workplaces for the tenth year running, having won its category 8 times and been the supreme winner of all categories on two occasions.
Gerry has been a board member of the Food & Grocery Council since 2012 chairing the Industry Relations group. In this capacity he set up a safety group involving all the retailer and supplier representatives so as to drive progress on safety culture for the industry. This has now transformed into ShopCare, supported by ACC to help step change H&S in the retail and supply chain industry.
Gerry has also been on the Business Leaders Steering Group committee. This is a group of CEOs driving safety culture and leadership in New Zealand.
In his spare time Gerry enjoys trail running having competed in the Routeburn and Kepler races, along with many other races.
For more information contact Gerry on [email protected] or www.realleadershipnz.co.nz
Callum McKirdy
Endlessly curious, Callum McKirdy is a speaker, author, mentor and facilitator on a quest to tap into the hidden potential that resides in every team by highlighting what makes them unique and actively appreciating those differences. He's all about owning what sets us apart, having spent a lifetime trying to fit in.
Proudly dyslexic and ADHD-positive, Callum champions organisations to think differently about different thinking – to uncover, unlock and unleash the hidden talents of those who experience the world differently from most and create Radically Authentic Workplaces. Callum's 20+ years in the people development game and lived experience as neurodiverse make him the perfect bridge to help organisations navigate Diversity & Inclusion 2.0.
Find him and his team at:
callummckirdy.com
LinkedIn at www.linkedin.com/in/callummckirdynz/
Pricing
HRNZ Members = FREE
HRNZ Student Members = FREE
Non Members = $25.00
Please note our prices include GST.
A zoom link and Joining Instructions will be sent the day prior to the event.
To Register
HRNZ Members: to receive the discounted Member rates or FREE Member registrations (where available) click on the LOGIN Link under the BUY TICKETS Button, then register through the BUY TICKETS link.
Non-members: register using the BUY TICKETS link in the Event Listing.
Payment
Fees will be due for payment in full prior to the event.
Cancellations and Refunds
To receive a full refund cancellations must be received by HRNZ by email to [email protected] two working days before the day of the event.
Cancellations after this time and/or 'no shows' on the day will be payable in full.
Appropriate substitutions are welcome - please email [email protected] with their details.
Back