HR Summit | Take the BOLD Path
Date:
Starts:
Ends:
Duration:

9 hours 30 minutes

Category:

HR Summit

Featured Events

Region: Nationwide
Venue: Museum of New Zealand Te Papa Tongarewa
Address: 55 Cable Street, Wellington 6011
Leadership for Tomorrow's HR Professional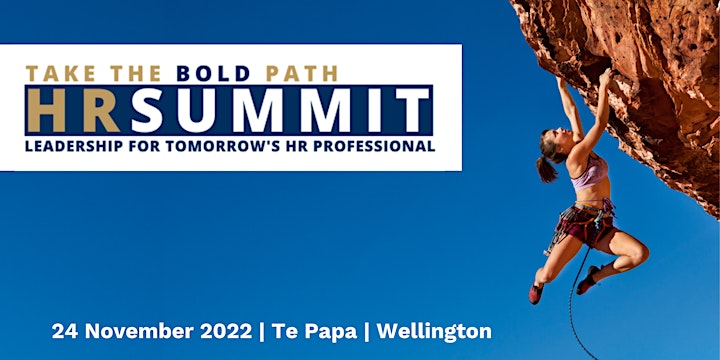 Too often HR is at the implementation end of change in organisations – some new technology, a new product or service or just a new piece of employment legislation to comply with. As we've researched the future of HR we've identified a bold new path.
On this path HR is the architect of change, providing much needed leadership and influence within their organisations. This change will be driven not by compliance or the best practice we see over the fence but rather by the deep understanding of how to engage the people who power our workplace and the vision to create a sustainable organisation.
At this first in-person HRNZ Summit since 2019 we'll be exploring the leadership needed from HR as we take this bold new path.
The Summit will feature a diverse range of speakers each with a unique perspective on how HR professionals need to show up as leaders in the workplace of the future.
Do join us in the conversation.
Note this event is worth 8 CPD points
Schedule of the HR Kanohi ki te kanohi | Face to Face Summit:
Wednesday 23 November
5.30pm - 7.00pm Welcome Cocktail Function
Our Summit will begin the night before with a welcome cocktail function in the Billiard Room at QT. A chance to network and meet up with others attending the Summit. This will be a wonderful opportunity to get to know fellow delegates, reacquaint with old friends and enjoy an evening pre summit.
Thursday 24 November | HR Summit Programme
Click here to view our speaker profiles
9.00am - 5.00pm HR Summit and Expo
Located in the one room, Amokura Gallery at Te Papa, our Summit will encompass an Expo, chill out zones and presentations and workshops - set in small groups of 8 for collaborative group work.
Our summits are about inspiring, educating and challenging our delegates. A summit like no other, packed full of amazing presentations, collaborative workshops and individual reflection with a workbook designed to help you build a path to boldness. Our Summit is aimed at HR professionals and people managers and leaders from across Aotearoa.
9:00am Welcome | Te Radar | MC
9:10am Opening Keynote | 10 Seconds of Courage
Nadine Champion | Author, speaker, martial artist
We all face pivotal moments of choice in life - to play it safe or take a chance.
The battle for confidence, resilience and success can be won or lost within your own mind.
10 seconds of courage is about empowering you to get unstuck, back yourself and take courageous action.Nadine's opening address is more than a keynote, you will be part of a mental, physical and emotional experience, the finale of which will leave you cheering with excitement and mentally prepared for the day!
Key takeaways:You will gain practical tools for bouncing back, staying mentally strong and dreaming bigger for yourself.
The key to facing challenges and overcoming obstacles lies in Changing Your Thinking - when you alter your response to difficult situations, you can positively impact outcomes.
You will understand the research-backed ways our minds can hold us back, make us hesitate or miss opportunities, plus the actionable mindset tools to avoid these common traps.
10:10am Social Entrepreneurship: from start-up to scale-up and setbacks
Samantha Jones | Founder and CEO of Little Yellow Bird
Samantha will share her inspiring story, providing her raw and honest story starting and scaling a social enterprise in a world that doesn't value sustainability. Samantha will share the challenges and learnings, how they've got to where they are, what they've learnt and where they are going. Speaking to her leadership journey in creating Little Yellow Bird.
As we begin the day we hope that her story will leave you feeling inspired, with some tips and tricks for overcoming adversity within your own teams.
10:40am Morning Tea
11:10am HR Taking the Lead on Organisational Sustainability
Kirsten (KP) Patterson | Chief Executive of the Institute of Directors
KP will be talking about the importance of HR practitioners taking a leading role in organisations' sustainability strategies and how they respond to climate change challenges. Future employers will be judged as much on these behaviours as other aspects of their organisational culture and will need to score highly in order to attract and retain the best talent.
11:55am Time Zones and Mind Zones – HR as Future Leaders of Sustainability
Maree Roche | Associate Professor Human Resources & Leadership, University of Waikato
Maree will combine her research on neuro-leadership and Māori leadership to inspire and challenge thinking. She will provide insight, tools and research that support HRs role in enabling fresh pathways - as HR navigates the way towards much greater sustainability in organisations.
By the end of the session you will:
Understand the neurological foundations of mind zones for sustainability, and
Understand Māori leadership and worldviews on time zones in facilitating sustainable change.
12:40pm Lunch
1:40pm Tackling our wicked problems
Sarah Baddeley | Executive Director at management consultancy MartinJenkins
What role can human resource professionals play in holding their organisations to account for wider social benefit? How do we detect and prevent modern slavery and worker exploitation in Aotearoa New Zealand?
Sarah Baddeley, Executive Director at MartinJenkins, advises Boards and Executive Teams on some of the most wicked problems facing our society today. Be prepared to leave this presentation, ready to exercise greater influence for good in your workplace.
2:10pm Workshop | Insight to Action
Deb Bailey | Leadership coach, facilitator, speaker and author
In order to engage the people who power our workforce and the vision to create a sustainable organisation, we, the HR Practitioners, need to show up as the best possible version of ourselves. How we do our leadership from the Inside Out matters. It's our 'inner game' of leadership that informs and impacts our 'outer game' - but do we know what that looks like?
In this practical session, you will explore the behaviours that will help you put the HRNZ Capability Framework into action and you will leave with your goals identified. You will also have the opportunity to connect with the rest of your table to learn and inspire each other.
This session is all about taking our insights and turning them into action!
3:00pm Afternoon Tea
3:20pm Workshop | Insight to Action continues with Deb Bailey
3:45pm Maximise Your Superpowers to Amplify your Impact
Natalie Cutler-Welsh | International speaker, Author, SuperConnector, Visibility & Impact coach, at Go to Girl Ltd and mother of three teenagers
Now more than ever people are looking to understand who they are as an individual and a leader. In this presentation we explore the concept of 'Upping your Brave' and how to navigate from the 'should zone' or 'frustration zone' to live your life primarily in what I like to call the 'Impact zone'.
We cover 2 keys to Impact zone living - one of them being maximising (but not maxing out) your Superpowers.
The audience will walk away with:
The ability to pin point what 'zone' they are living in and take empowered actions to effectively navigate towards the 'impact zone'.
A new found understanding and admiration for their own Superpowers and how to maximise them (but not max them out).
A feeling of empowered positivity and greater clarity on what living in the impact zone means to them and what they are choosing to courageously create (and lovingly let go of).
4:30pm Closing Remarks
4:40pm Welcome by MAS to Networking cocktail function
Networking to end the day | 4.45pm - 5.45pm
What better way to end a day of hard mahi than a networking function where you can enjoy talking to fellow attendees and reflect on the day that was.
Pricing
HRNZ Members $495.00 + GST
HRNZ Student Members $395.00 + GST
Non Members $695.00 + GST
Pricing includes the Summit Registration Only. Travel or Accommodation requirements are not included in this fee.
Please note our prices exclude GST
Accommodation
Limited rooms will be available at the QT Hotel, opposite Te Papa, our Summit Venue, with a special Delegate Rate:
Executive Studio | Includes buffet breakfast for one $349
Executive One Bedroom Apartment | Includes buffet breakfast for one for $389
As only a small number of rooms have been put aside for our group, we suggest you book early to avoid missing out.
Wellington City has many hotels within easy walking distance to Te Papa.
To Register
HRNZ Members: to receive the discounted Member rates or FREE Member registrations (where available) click on the LOGIN Link under the BUY TICKETS Button, then register through the BUY TICKETS link.
Non-members: register using the BUY TICKETS link in the Event Listing.
Payment
Fees will be due for payment in full prior to the Summit.
Cancellations and Refunds
Cancellations prior to 10 November will receive a refund in full.
Cancellations after 10 November will incur a $60 cancellation fee.
No refunds after 14 November, the Summit Fee will be payable in full. Substitutions are welcome.
In the event you need to cancel, please do so by emailing [email protected] by the 10th November, to avoid being charged. No shows and cancellations after the 14th November will be charged in full. Substitutions are welcome - please email [email protected] with their details.
Back